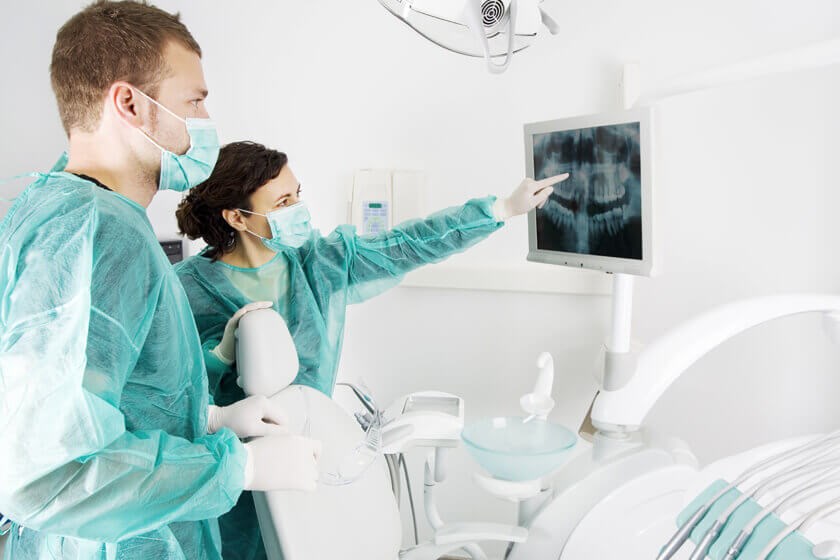 Men and women who have lost some teeth are in good company: Many individuals in Austin, TX may find themselves experiencing dental health diseases that can lead to loose or missing teeth. As a matter of fact, a reported 175 million – 180 million U. S. citizens have experienced the loss of a single tooth or several. Missing any number of the natural teeth causes adverse consequences that commonly harm your dental wellness and self-worth. When teeth are extracted due to deterioration from advanced cavities, jawbone weakening, or other dental concerns, replacing them as soon as possible will lead to the most beneficial scenario for your smile and oral health. Dental implant restorations are, at this moment, a preferred technique for substituting adult teeth thanks to their long-lasting health and aesthetic benefits. The dentists at Parmer Dental Care have a great deal of specialized training with dental implant procedures. We can help you discover the most effective tooth replacement procedure for your unique needs and cosmetic wishes and whether or not implant dentistry is the right direction for your smile's wellness.
THE MOST POPULAR SOLUTION FOR REPLACING TEETH
Praised for their highly natural-looking structure, dental implants are unique from any other tooth replacement options offered these days. Implant dentistry provides a unique scope of tooth replacement alternatives and might treat anything from a single missing tooth to an entire arch. Patients who are looking to change from worn down tooth replacements to a longer-term option might be potential candidates for this popular treatment. Numerous individuals are going with implant-based solutions to bring functional capabilities, improved health, and visual allure back to their teeth. Implants look, feel, and act similarly to actual teeth. With characteristics that closely echo those of actual teeth, it's no wonder that implants are thought to be the ideal method for tooth substitution.
THE WAY DENTAL IMPLANTS FUNCTION
The carefully crafted design of the implants echoes the structure of natural teeth. Dental implants consist of sturdy metal posts that act as a synthetic tooth root, as well as real-looking crowns that restore effective shape and function to the smile after the loss of teeth. Over a period of 3 – 6 months, the metal posts go through a fusion system in which they bond with the jawbone and become a permanent component of the mouth. Metal posts merge with the bone to replace a tooth root for lasting stability and unmatched support.
THESE RESTORATIONS GIVE PROLONGED OUTCOMES
When it comes to to replenishing lost teeth, most individuals desire a solution that produces lasting results. Fixed implants are the only tooth replacement solution that fuses with the jawbone, acting like real tooth roots. The process, called osseointegration, produces a reliable structure, enabling dental crowns to stay in place. The titanium posts are won't deterioration and rarely need replacement. Therefore, a person could benefit from a healthy smile for many years to come. If provided by a thoroughly skilled professional who employs modern techniques, this operation boasts an impressive rate of success.
SEE IMPRESSIVE COSMETIC PERKS
An appealing feature of dental implants is the carefully designed cosmetic qualities this tooth replacement method offers to patients. The staff at Parmer Dental Care makes individualized fixed solutions that range in shape, length, and color to blend beautifully with surrounding teeth. Dental implants look and seem like natural teeth, meaning that they are nearly indistinguishable from real ones. Implants might also help individuals maintain a pleasing face contour and defend against the skin sagging that often develops if teeth are absent. One-piece implants made of crowns replace single missing teeth. Meanwhile, implant-supported bridges and partial or full dentures are utilized to tackle an entire arch of teeth. In fact, individuals should be aware that even an entire arch of missing teeth may be effectively replaced with a natural-looking, full-arch restoration.
FIXED RESTORATIONS MAY IMPROVE YOUR OVERALL LIFE
Using dental implants as a solution for tooth replacement might offer a number of enhancements to general lifestyle, most notably for men and women who have been experiencing lost teeth or have had decaying teeth for some time. Since the titanium screws are attached firmly within the jawbone, dental implants offer a notably consistent biting function. Dental implants do not shift, rock, or slip: They also don't need sticky substances to stay in place. Because implants are held in place with a reliable metal post within the jawbone, these restorations can allow individuals to bite, chew, and carry on conversation without hassle. Men and women who select this service will get to have their favorite meals and smile with a new sense of self-assurance without having to worry about the state of their oral health.
ARE YOU A QUALIFIED CANDIDATE FOR DENTAL IMPLANTS?
Dental implants are a sought-after solution for those wishing to gain back their smile, comfort, and dental health after the loss of permanent teeth. Implants are custom-crafted to restore the visual appeal and health of the smile. Though ideal for several patients, dental implants do call for adequate jawbone support and disease-free gums to work. If bone deterioration or other conditions are keeping you from being considered a good candidate for dental implants, our team may suggest advanced operations to enhance the condition of your dental/oral health and create an environment that lends itself to implant success.
If your oral health has been affected by missing teeth, dental implants could serve as a wonderful solution for tooth replacement. Our staff at Parmer Dental Care is ready to evaluate your unique problems and aid you in determining if dental implants could be right for your oral health. We invite you to reach out to our Austin, TX practice to begin the journey toward having an elevated life.